Reactive Dyes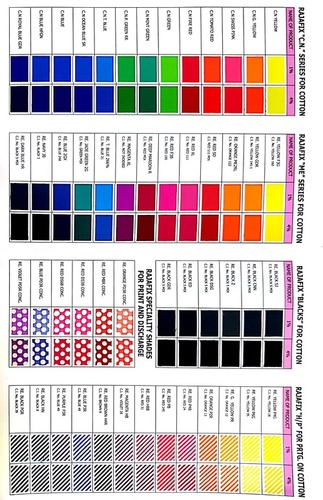 Reactive Dyes
Price And Quantity
Kilograms/Kilograms

200.00 - 1500.00 INR
Product Description
Reactive Dyes for cellulosic material and are designed to give high fixation on the cloth. Reactive Dyes are suitable for dyeing cotton and other cellulosic materials. These dyes process significantly higher exhausation and fixation efficiency which result in appreciable cost reduction.
Shade Card Photo :

VS Dyes
ME Dyes
HE Dyes
M Brand (cold Brand Dyes)
H/P Dyes
RAJA 'VS' BASED DYES
General
RAJAFIX 'VS' Dyes are Vinyl Sulphone based dyes. They have very good dyeing properties for all cellulosic fibers. They react chemically under suitable conditions with cellulose based materials brilliant shades with good fastness properties.
Characteristics :
Suitable for exhaust, cold pad batch and continuous process
Easy to wash off
Reactive dyes give brilliant hues of high level fastness
Economical
Meet the requirements of major ecology standards
Can be used for printing
RAJAFIX'H' / 'P' DYES
Rajafix 'H' Brand dyes are of major interest for textile printing on account of their good print paste stability in presence of alkali, suitability of application by roller, Screen or rotary machines, and excellent washing behaviour. Dyes react with cellulosid fibres in presence of alkali and heat. The direct chemical linkage which results thereby, accounts for excellent fastness properties. The reaction between the cellustoic fibers and the Dye can be achieved by any of the following method.
RAJAFIX 'M' (COLD BRAND DYES) FOR DYENING & PRINTING
General
RAJAFIX 'M' BRAND DYES are for cotton and viscose. These dyes react with cellulose fibre to produce very brilliant shades. Due to certain leaving group which can undergo nucleophilic displacement with hydroxyl group of cellulose and thus gives us best results to fastness.
Characteristics :

Suitable for normal temp. Dyeing
Easy to wash off
Good washing fastness
Can be used for dyeing & printing
Highly economical dyes.
RAJAFIX REACTIVE 'HE' (HIGH EXHAUST DYES) FOR DYEING
Rajafix 'HE' dyes are reactive dyes with high exhaustion and high fixation efficiency. Due to their high exhaust properties, washing off is very easy. Also the drained liquor, after dyeing, contains a much less unfixed dye resulting in less pollution.
RAJAFIX REACTIVE 'ME' (BIFUNCTIONAL) DYES FOR DYEING
General
Rajafix'ME' dyes are Reactive Bi Functional Dyes containing two or more than two different groups in each dye-molecule. Due to their BI-reactive (VS/MCT) they are less sensitive to variations of the application-parameters such as liquor ratio, temperatuer, electrolyte, alkali, ant time. The main features of reactive 'ME' Bi-Functional Dyes are
Characteristics :
Most suitable for use in exhaust, cold pad-batch and continues processes.
High level of fixation is possible thereby yielding fast and deep hues.
They have higher all round fastness properties.
Low staining on multiple fibers
Trade Information
Yes

Free samples are available
Contact Us
KHASRA NO.88,89, GROUND FLOOR, VILLAGE HAIDER PUR, Delhi, Delhi, 110088, India
Phone :+918035918529